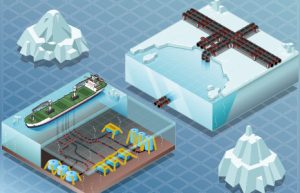 Bjørntoft Maskinfabrik A/S has been a sub-supplier to the Oil & Gas Industry since the early 1990s. The more than 25 years in the Offshore Industry has given us profound experience to understand the rules and strigent requirements this industry is known for. We have the necessary certificates to operate as a professionel sub-supplier with our ISO certificate (9001:2015) and Achilles Approval together with our strong focus on HSE.
As an experienced company within the Offshore Industry, we offer the following machining services:
CNC Turning
CNC Milling
CNC Drilling
From prototype machining to larger series of parts 
Additional services:
Raw material purchase
Cladding (sub-contracting)
Welding  (sub-contracting)
Surface treatment (sub-contracting)
Testing services:
NDT testing (hardness testing, penetrant testing, ferroxyl testing)
Pressure testing up to 2.000 Bar
Comprehensive documentation of above
Bjørntoft Maskinfabrik A/S has delivered high quality machined parts to oil and gas companies around the world.
With participation in 250+ offshore and subsea projects, we are often involved in the projects through more than one business partner. We have listed some of the projects below: